Why ASUS Servers?
ASUS offers a wide range of server form factors for various space settings and IT designs. Small to medium businesses might need anything from a simple file or web server to complicated storage and virtualization servers depending on business scale and service.
For medium to large enterprises and managed and cloud service providers, ASUS is recognized to have the optimum 2U – most widely used server type, two socket server with 67 No1 benchmark world records for performance.
ASUS Server Product Portfolio
RS Series Server
ESC Series GPU Server
S Series Storage Server
Open Platform Server
General Purpose
Rack Server
Enhanced product flexibility and scalability to cover a full range of applications.
GPU Density
Rack Server
Design in most loading technology for brand leading images.
Storage Density
Rack Server
Design in most loading technology for brand leading images.
Easy Scale Out
Full Rack
Design for hyper-scale datacenter.
Core Competency of ASUS Server
Performance
Green Computing
Management
ASUS Performance Boost Technology



Core Optimizer
Engine Boost
Workload Presents

ASUS Thermal Rader 2.0



Optimized thermal design
Intelligent sensors monitoring
Dynamic adjustments


Power Balancer



Dynamic Monitoring
Auto Frequency Adjustment
Enhanced Power Efficiency

ASUS Control Center



Easy Management
Improved IT Efficiency
High Capability
HW & FW Integration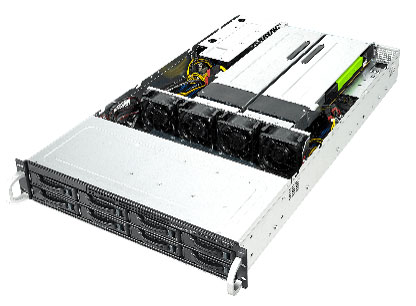 ASUS Performance Boost Technology
Monitor and feedback CPU loading to have more accurate management on the system
Auto Frequency Adjustment
Dynamically and automatically adjust cpu frequency based on current utilization to reduce power consumption
Enhanced Power Efficiency
Optimize performance per watt for a betterpower efficacy system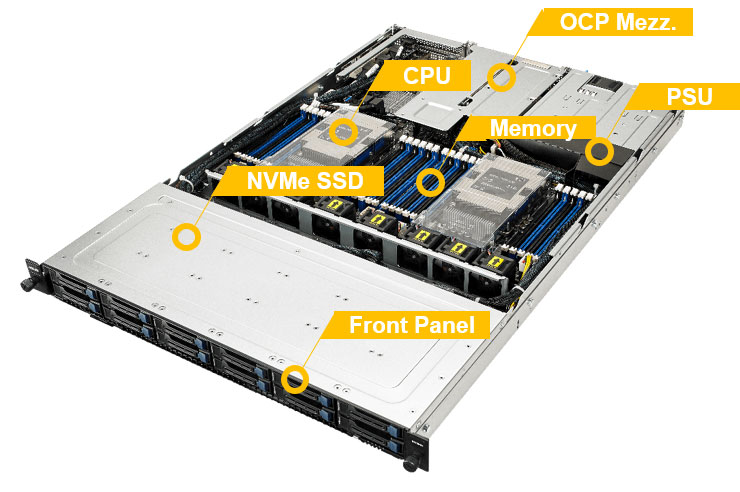 More Sensors
Sensor are embedded on front, CPU, NVMe,SSD, OCP Mezz, Card, PSU and memory. Up to 56 ambient sensors on selected models
Intelligent Adjustment
Fans are grouped for dynamic fan curve adjustment in different tan zones to achieve more precise thermal monitoring
Economic and Eco-Friend
More precise thermal information can reduce power consumption and lower down TCO.
Versatile General Purpose Servers
Virtualization
High Core Counts
Large Memory Capacity
RS500A-E10
RS700-E9
ES700A-E9 V2
RS720-E9
RS720A-E9 v2
Edge Computing
RS100-E10
RS300-E10
RS500A-E10
RS700-E9
HPC
High computing density
High Speed Network
RS720-E9
RS720Q-E9
AI & Analytics
GPU optimized
High Speed Network
RS720-E9-RS8-E
Smart Industry
Space-Spacing
General Compute Capability
RS100-E-10
SMB
Lower Cost
Balance Performance
RS300-E9
RS500- E9
RS520-E9
Green ASUS
We at ASUS are fully committed to creating a sustainable future. We believe in adopting an eco-friendly approach towards every aspect of our business. This is where the Green ASUS philosophy comes in – from our internal practices and our production processes.
Server Support
ASUS guarantees quality, service and reliability. That's why we offer an exclusive one-day advanced replacement and return merchandise service – 1-Day ARS. In addition to rapid replacement, all ASUS barebone servers, server motherboards carry a 3-year limited warranty in most territories – with satisfaction guaranteed